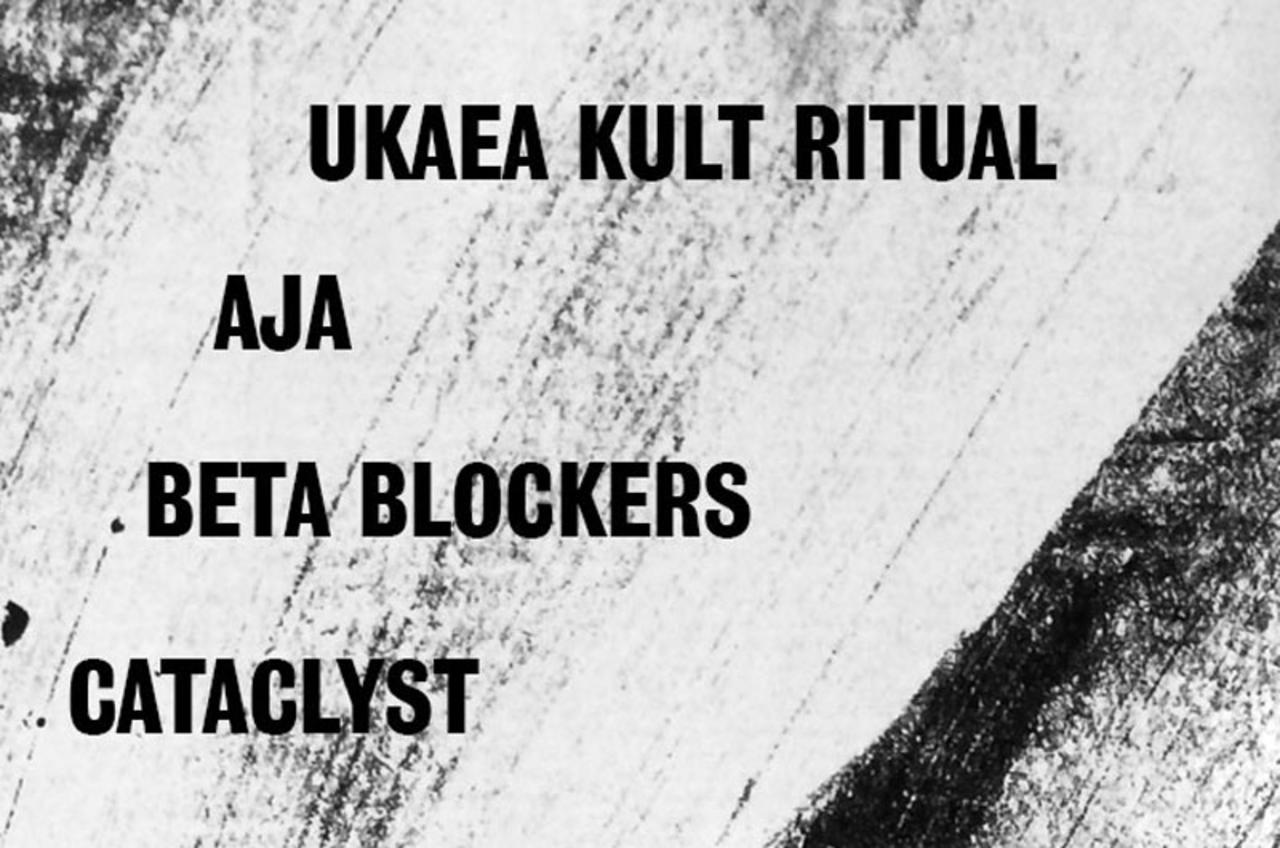 We've scoured the murkiest depths of the UK underground, and drudged up a triple whammy of singular and uncompromising artists for what promises to be the most twisted, freakiest Golden Cabinet yet...
UKAEA Kult Ritual
A mysterious collective of (possibly) lunatics and minstrels that attempt to recreate a ritual from disparate, unconnected scraps of the past, as perceived after some kind of event horizon or year zero. Or, on a more simplified level it's a bunch of mates banging it out. This particular incarnation of the unit will have them improvising and performing as Uncanny Kabal of Astarte Ever After (previously they've appeared as United Kult of Animist Endgame Apostles at the Supernormal festival).
We've no idea what they have in store for us on the night, but previous rituals have been said to involve naked people dripping in paint, occult-looking headdresses, a violin, a djembe, laptops, modular synths, percussion, pedal boards, sequencers, peculiar visual projections, chanting etc. They initiate their rituals as individual performers with minimal effort in terms of shaping an overall aesthetic. Gradually, individual input rubs off and becomes re-assimilated, until a group mindset emerges; then things start getting intoxicatingly weird...
AJA

AJA's truly unhinged, confrontational and visceral live performances are slowly becoming the stuff of legend. She's just released a stunning album on Opal Tapes that incorporates elements of industrial techno, field recordings, power electronics and noise. For the full life affirming experience, she needs to be both seen and heard in the flesh. Her dazzling show involves eye melting costumes which she adorns and often removes as she erodes the barrier between performer and audience. AJA creates hellish soundscapes through skilled sound design - a bedrock of nightmarish drones, brutal drum machine assaults and cathartic vocal howls and shrieks. Part of an exciting wave of female noise artists (Pharmakon, Puce Mary) to recently emerge, AJA captures a raw primal energy - her music is a pure eruption of self and the subconscious. Her sound a transgressive splatterfest of dark and psychedelic psychotropic sound. We can't wait for her to pound us into the pure ecstasy of oblivion.
Beta Blockers

Beta Blockers conjure up a storm of ferocious and feral noise punk. A blistering torrent of fast and furious, dark and aggressive psychedelic hardcore. Their fenzied sound, something akin to a brick in the face. Check their storming, short but sour 'Stiff Prescription' EP on Static Shock Records for a glimpse of their resume, as they blaze through 7 tracks in 18 minutes. These beasts dwell in a far muckier zone than your average bunch of thrashers. Think the punishing delirium of Black Flag being murderized by Einstürzende Neubauten. Comprised of members of The Flex, No Form, Whipping Post and Community, these guys totally slay and will positively tear us all a new one when they rip it up in Shipley.
Cataclyst
Bonehead local disc jockey - plays for scraps.
---