Anthroprophh adventures remembered
12 November 2014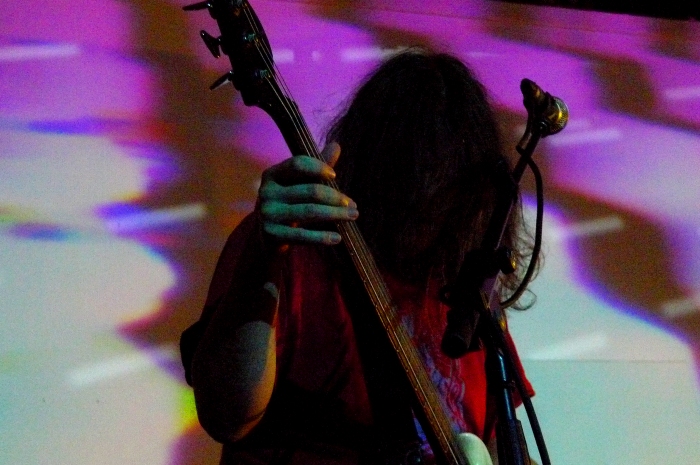 Tardiness is never something that could be attributed to any member of Golden Cabinet. Ok, well I'm lying, it could probably be levelled at half of the collective crew on at least many a given situation but on this occasion three quarter of the collective did manage to get to the venue on time.
We had already been overtaken by the two Bristol based bands Anthroprophh and Big Naturals who had already arrived, loaded in and were being comfortably looked after with cups of tea by the last stragglers of the cafe staff that were busy (sorry, slowly) clearing up after a busy day at the alternative market that had been held prior to our show. Kemper Norton it transpired was simultaneously en route too so it was all coming together like the fantastic plan we have every month – what could possibly go wrong? Well, at least on this occasion I didn't mistake members of one band for another band thus eliminating the repetition of a further faux pas that some people on that occasion refused to let me forget. Hey, it's an easy enough mistake to make before formal introductions have been made.
As ever and whenever there has been an alternative market at the Kirkgate Centre prior to a Golden Cabinet gig we always find ourselves hollering requests at the market participants who are clearing up. It's all friendly banter of course but we're on a swift turnaround of events and we have a lot to take care of. Even finding one of the cafe workers feeding our band with leftover vegan cuisine was no big deal despite the fact that we always cook and provide hot vegan food for the bands ourselves.
So after finally gaining access to the kitchen and setting up our food it was nice to hear Jesse from Big Naturals and Anthroprophh exclaim "That was fantastic but I'm full, I've had three meals already", when asked if he wanted anything more to eat.
Then it all begins. Well it does after all the behind the scene work has finally been accomplished - the bands have soundchecked, the bar staff have furiously completed setting up their wares and the homemade Golden Cabinet cake is nicely presented on glass stands adorned with it's own special sign – Lemon Cake (Vegan), £1.
The bar shutters are thrust open and DJ Sam begins to pump out her mix of tunes for the evening. Punters begin to arrive, armed and ready with their smart phones depicting their online ticket sale reservation numbers and who once in start crowding the area where alcoholic beverages and cake are on sale.
Big Naturals completely overcame the DJ mixes with an earth shattering sense of panic and with an almighty and bombastic introduction. A duo of drums and bass guitar that let loose earthquake levels of instrumental doom sludge and noise rock that even the patented Richter scale machinery would run and hide in cover from.
Atmospheric bursts of krautrock sonic soundscapes, monstrous drumming and effects would only brow beat the audience. And yet the riffs kept coming and the Kirkgate Centre continued to shudder.
As one patron stated upon arriving halfway through their set, "I could hear that in Saltaire".
God all fucking mighty, Big Naturals kept and continued to lurch from one massive riff building riff to to the next until some implosion was probably imminent.
The hall cleared soon after their sonic boom had finished because everyone needed a tab and some fresh air whilst reflecting on the aural onslaught they had just been subjected to and also to check that their ears were still functioning.

By absolute sheer contrast, Kemper Norton, unfazed by what had preceded him, let loose his own barrage of downbeat electronica that encompassed mood infused meanderings that harkened back to early Syd Barrett period 'Floyd and conceptual drone soundscapes inspired by his own self styled inspiration of Cornish folklore.
It was a dream like and ambient intermission that allowed the Kirkgate Centre windows to eventually resume their fixed positions and for everyone in attendance to have their inner organs realign to the position they had been in a couple of hours earlier.

After a further tab break, Anthroprophh took up their position. Jesse and Gareth from Big Naturals here joined by Paul Allen of The Heads. OK, let the psychedelic mayhem begin.
And thus it did with flagrant disregard for anyone or anything caught in their web of somewhat discordant yet mesmerising blend of garage infused, stoner rock, krautrock inspired sonic malevolence.
It was a force to be reckoned with as a multitude of cosmic leaning heads were soon engulfed and seen to be nodding hypnotically in their appreciation. Just when you thought the end was nigh, these boys pulled out all the stops to transport you even further back on their acid fuelled carpet of music majesty that at times crossed boundaries with both Hawkwind and Aphex Twin.
Let's be clear here, there's nothing a lot you can do when this form of music swallows you whole and refuses to let go until the final pop, hiss, riff and drum beat has pulervised you with whatever left you have that hasn't already been physically and psychologically drained from you.

With the hall lights flicked on, that signalled it was that time again - the good time for this evening was over and we would now have to start the task of disassembling everything we had managed to create for the previous four hours.
All I could think about in a somewhat IPA infused state was – how am I going to manage to stumble home, not only with myself in one piece but with an armful of precious long play vinyl courtesy of the bands tonight.
And somehow, quite remarkably, I did.
Buy a copy of the letterpress poster
Go to our online shop to get your copy.